Our Experience With The Meridian Trimmer - A Review
Posted by Dean Nappa on March 13, 2023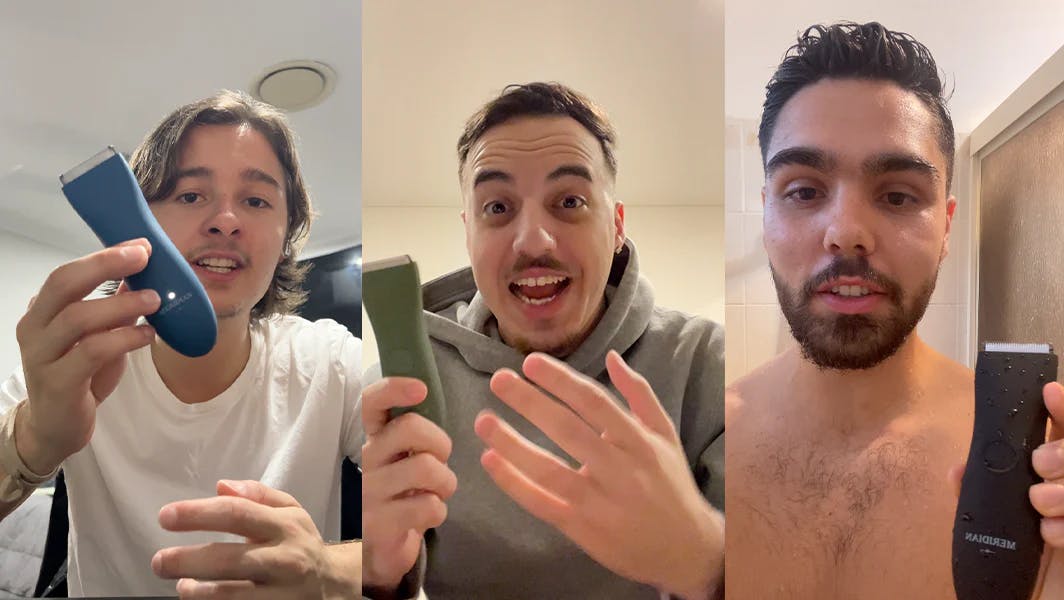 We gave Sav, Dean and Jerome a Meridian Trimmer to use, and asked them to give us there thoughts. This is what they had to say:
Sav:
When it comes to trimming my body, I like to keep things simple and straightforward. That's why I was excited to try the Meridian Trimmer. It promised to be easy to use and efficient, so I was eager to see if it lived up to the hype.
To be honest, I was a little skeptical at first. I've tried other trimmers in the past and have been disappointed with their performance. But I have to say, the Meridian Trimmer exceeded my expectations.
It was super easy to use and gave me a precise trim every time. The blades were sharp and didn't pull on my hair, which is a huge plus in my book. The battery life was also impressive – I was able to use it multiple times without having to recharge it. Overall, I'm really impressed with the Meridian Trimmer and would definitely recommend it to anyone looking for a reliable and user-friendly trimmer.
Jerome:
When it comes to personal grooming, I'm very picky with what I use and the Meridian Trimmer would be no exception to that. I was intrigued by the features it promised though and was excited to give it a try.
I must say, I was thoroughly impressed with the performance of the Meridian Trimmer. It was easy to handle, the blades were sharp and it delivered a precise trim every time. The battery life was also impressive, and I loved that it was waterproof, because im a shower shaver, so that was really convenient.
However, I do have one minor criticism – the design of the clip on guards could have been better. It's a bit bulky and could have been more ergonomic. But that being said, the performance more than makes up for it. I would highly recommend the Meridian Trimmer to anyone looking for a top-notch grooming tool.
Dean:
Ah, the Meridian Trimmer. Let me tell you, this thing is a game-changer, It's the James Bond of trimmers, in my opinion.
From the moment I took it out of the box, I knew I was in for a treat. The design was simple yet stylish, and the blades were sharp as a razor. And let me tell you, it did not disappoint. The trim was precise, I also wanted to give it a strong test so I really pressed down when trimming and was happy that i still had no nicks. 
In short, the Meridian Trimmer is the epitome of form and function. It's the perfect tool for ball and body trimmer. I highly recommend it to anyone looking to up their grooming game.